$9.99
ISBN: 9780740706493
Availability: Ships from our supplier - you choose to your home or to the store
Published: Andrews McMeel Publishing - October 3rd, 2000
Reanimating a classic, Joan Walsh Anglund adds her beautiful line drawings to the timeless story of a young cowboy--a perfect gift for children.

"Once there was a cowboy. He was strong and brave. He was not afraid of coyotes. He was not afraid of mountain lions. He was not afraid of ornery rustlers. . .
---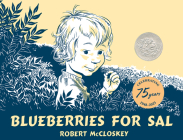 $17.99
ISBN: 9780670175918
Availability: On Our Shelves Now
Published: Viking Books for Young Readers -
Caldecott Honor Book

What happens when Sal and her mother meet a mother bear and her cub? A beloved classic is born!

---

$17.99
ISBN: 9780544876835
Availability: On Our Shelves Now
Published: Clarion Books - February 20th, 2018
A 2018 New York Times and New York Public Library Best Illustrated Picture Book

When Mae's family moves to a new home, she wishes she could bring her garden with her. She'll miss the apple trees, the daffodils, and chasing butterflies in the wavy grass. But there's no room for a garden in the city.

---

$19.95

ISBN: 9781911171980

Availability: On Our Shelves Now

Published: Flying Eye Books - June 5th, 2018

A Children's Book Council 2019 Outstanding Science Trade Book for Students K-12.

Owen Davey's dynamic art and witty informational tidbits shine a light on the toughest bugs in the insect world: those brawny beetles!


---

$12.95

ISBN: 9781944762155

Availability: On Our Shelves Now

Published: Islandport Press - May 16th, 2017

It's a rare and exciting event when two giants of children's literature work on a book together, and The Little Fisherman is one of those books.

---

$17.99

ISBN: 9781481487597

Availability: On Our Shelves Now

Published: Beach Lane Books - September 3rd, 2019

Discover the amazing true story of Maria Mitchell, America's first professional female astronomer.

Every evening, from the time she was a child, Maria Mitchell stood on her rooftop with her telescope and swept the sky. And then one night she saw something unusual—a comet no one had ever seen before!

---

$25.00

SKU: 222222222222222

Barnaby Bear's Story Time & Art Kits!

2 Books: Barnaby Seasons in the Park and Barnaby's Nantucket Coloring & Activity Book.
A set of crayons & colored pencils.
3 Barnaby Greeting Cards + envelopes.
A Barnaby notepad.
A Barnaby sticker and tattoos.
A Barnaby tote bag.

You can now order a BARNABY BEAR STORY TIME & ART KIT for your little one or send a gift to someone you love! Each tote is $25 plus shipping! 10% of sales will be donated to the Nantucket Food Pantry.

---

$17.99

ISBN: 9780763665296

Availability: On Our Shelves Now

Published: Candlewick - February 24th, 2015

Influential artist Carson Ellis makes her solo picture-book debut with a whimsical tribute to the many possibilities of home.


---

$9.99

ISBN: 9781568463353

Availability: On Our Shelves Now

Published: Creative Editions - February 25th, 2020

Unfold the flaps of this board book to watch what grows in a garden environment.

---