Moby-Dick (Enriched Classics) (Mass Market Paperbound)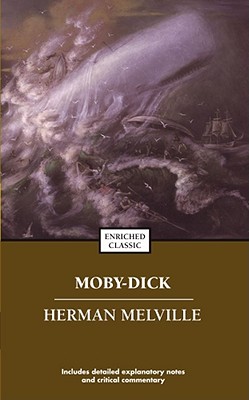 Email or call for price
Description
---
Herman Melville's peerless allegorical masterpiece is the epic saga of the fanatical Captain Ahab, who swears vengeance on the mammoth white whale that has crippled him. Often considered to be the Great American Novel, Moby-Dick is at once a starkly realistic story of whaling, a romance of unusual adventure, and a searing drama of heroic courage, moral conflict, and mad obsession. It is world-renowned as the greatest sea story ever told.
Moby-Dick, widely misunderstood in its own time, has since become an indubitable classic of American literature.
About the Author
---
Herman Melville was born in 1819 in New York City. After his father's death he left school for a series of clerical jobs before going to sea as a young man of nineteen. At twenty-one he shipped aboard the whaler Acushnet and began a series of adventures in the South Seas that would last for three years and form the basis for his first two novels, Typee and Omoo. Although these two novels sold well and gained for Melville a measure of fame, nineteenth-century readers were puzzled by the experiments with form that he began with his third novel, Mardi, and continued brilliantly in his masterpiece, Moby-Dick. During his later years spent working as a customs inspector on the New York docks, Melville published only poems, compiled in a collection entitled Battle-Pieces, and died in 1891 with Billy Budd, Sailor, now considered a classic, still unpublished.
Praise For…
---
D.H. Lawrence


Moby-Dick commands a stillness in the soul, an awe...[it is] one of the strangest and most wonderful books in the world.